In November we began studying fall related themes such as:
Scarecrows
Thanksgiving
Native Americans
We also cover the United States, USA landmarks, the American flag, volcanoes, the digestive system and the artist Georgia O'Keeffe.
Here are some photos of lessons and shelf work that related to our fall theme:
We used the peanuts from the peanut shelling lesson and the corn kernels from the tweezing corn kernel lesson to feed the squirrels outside the classroom.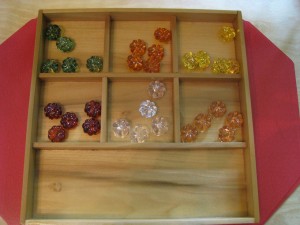 I found this idea for a pumpkin scrubbing lesson at http://www.justmontessori.com
When we cover the United States, we also talked about the American flag. We discuss what the stars represent and why there are 50 of them on our flag. We also talked about why our flag has 13 stripes. Montessori for Everyone has great Parts of a Flag cards and we use them for our lesson and then the kids can create their own Parts of a Flag Booklet.